The latest news from the studio and the Thrashboy world here:
 12.01.23
NEW STUDIO OPENS THE DOOR!!
On Saturday 11.11. and Sunday 12.11 is the opening of the new Thrashboy® studio in Ruswil!!!   
The time has come, my brand new thrashboy® studio is occupied, furnished and opens the doors for you all for the first time! Come by, you'll get a unique look behind the scenes and into the details of the individual works. There are new works & gift ideas and the T-shirts and the popular ZippHoodies from the latest production should also arrive by then!
As a special on Saturday my new neighbors, the Kontinuum8 workshop for upcycling furniture, will also open their doors. Of course you are welcome to drop in there as well.
Against unaccustomed dryness in the neck area and against small hunger pangs will be taken care of.
Come by and have a look, it will be a very cozy and exciting weekend!
We are looking forward to seeing you!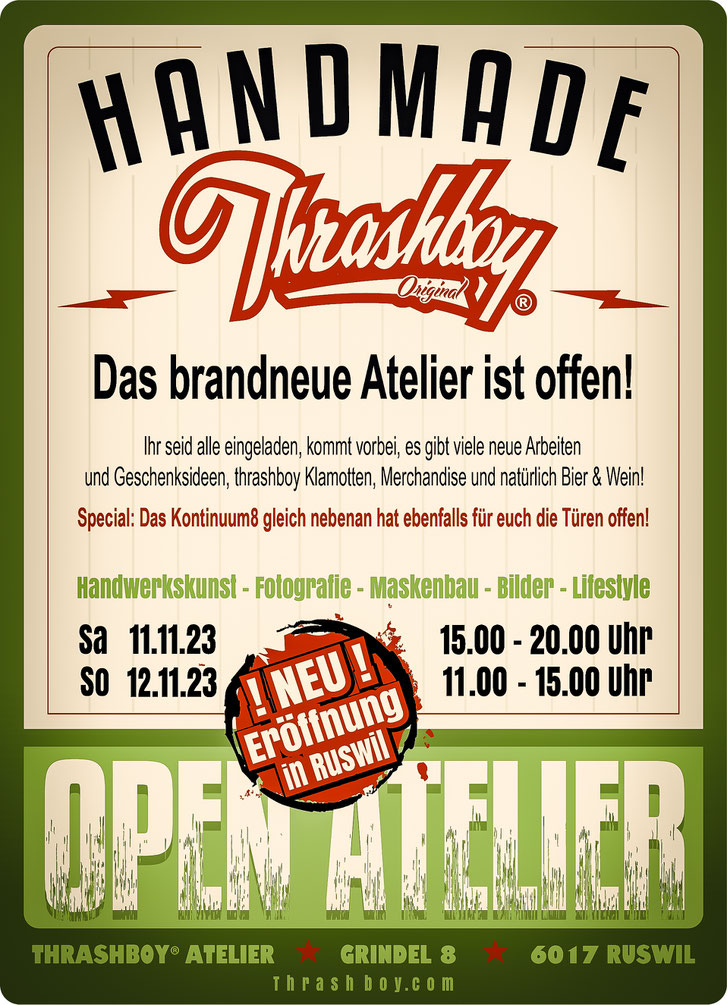 ---
 12.01.23
Next Stop - Gyp'sea Kustom Beach Weekend
OHOO! We are have news! We will be at the Gypsea Kustom Beach Weekend this year! The coolest cars, hot rods, Kustom Kulture Art, good people and a really great party!!! Come by the Thrashboy booth! 
We are looking forward to you and a super awesome weekend!!!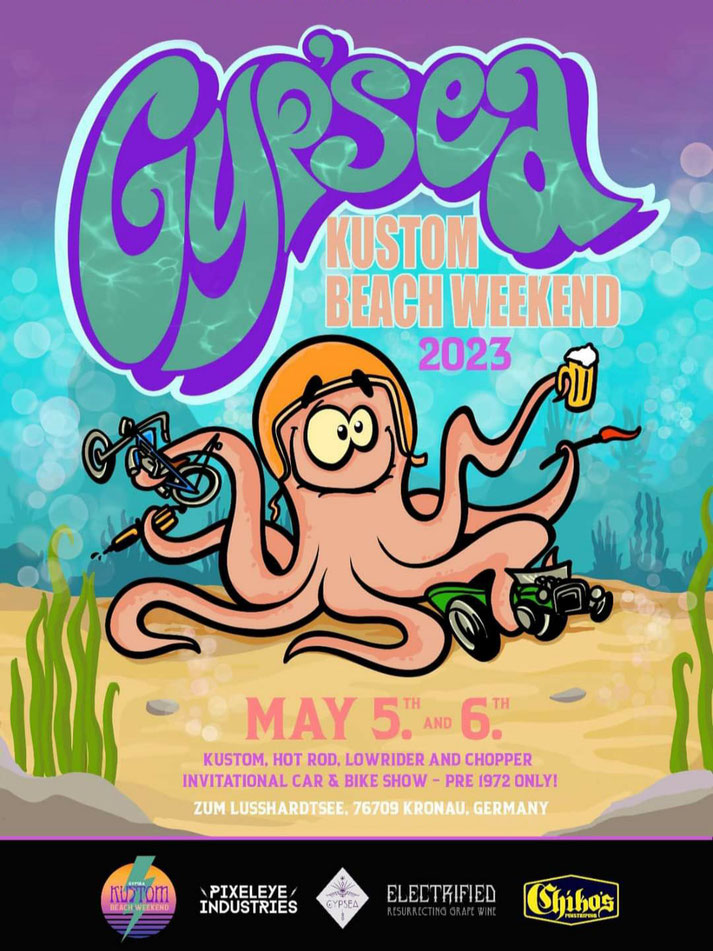 ---
 12.01.23
Come to the 50's Rocket!
Great News! We are back at the 50's Rocket in Zofingen (CH)! Cool Cars, Hot Rods, live Music, Kustom Kulture Art, good People and a coool Party!!! Come and visit us! You will find us with our booth in the art gallery!
We are looking forward to you and a great weekend!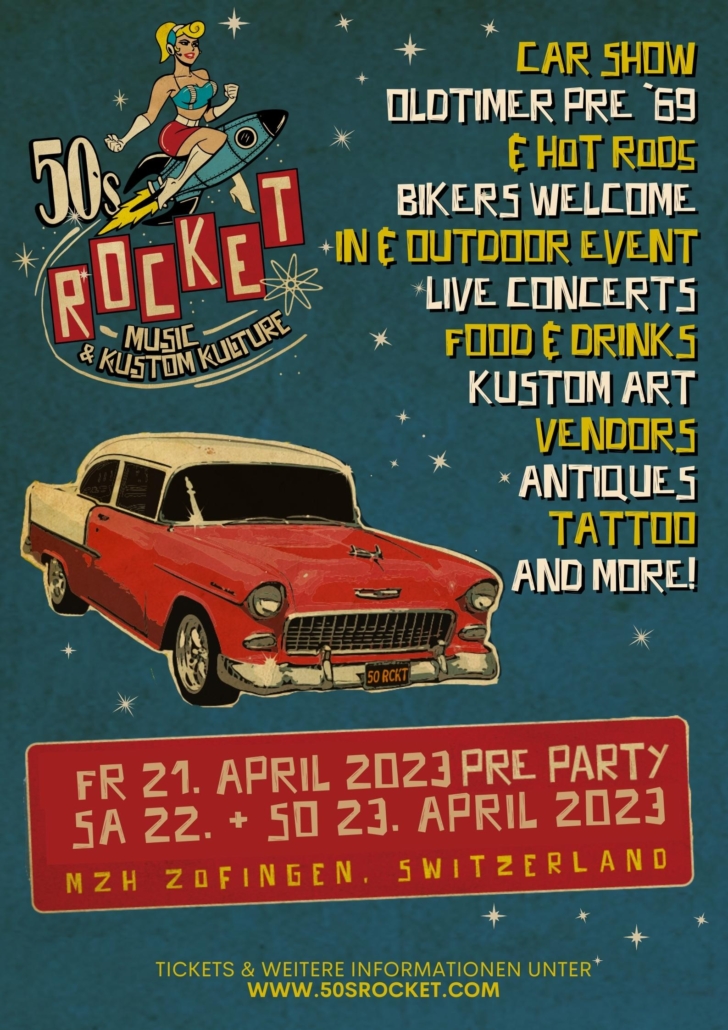 ---
 12.01.23
Next Stop Helsinki!! The Kustom Kulture Show
Yeah, I am so happy!!! The Kustom Kulture Show in Helsinki Finland is the big show in winter!!! With many international artists, the hottest Hotrods and Kustom Cars, Bikes, Bands and a lot of Lifestyle!
And I can be in the middle of it! On 11. and 12. February the party rises! 
More info - www.kustomkultureshow.com
How I look forward to seeing all my friends again! This will be great!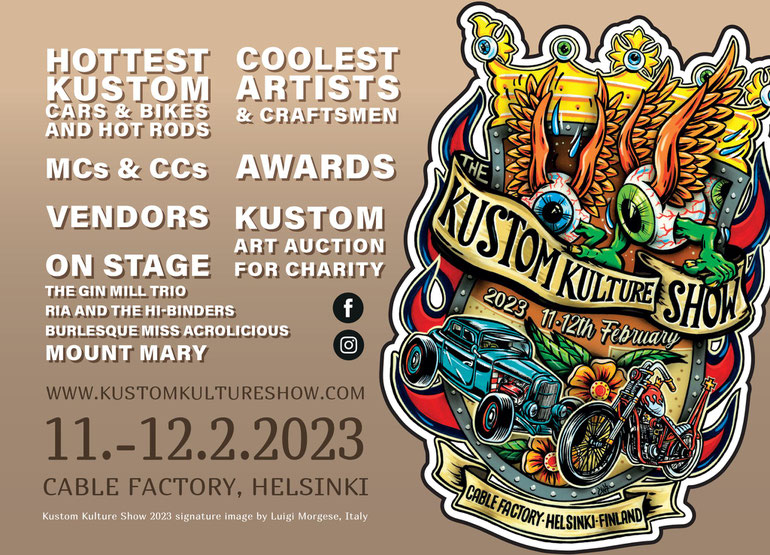 ---
 28.12.22
Merry Christmas and happy new year! 
And again a year is over. A year with many super nice encounters, many new things I was allowed to learn and with many experiences that I like to take with me! 
I would like to thank again very much to all who have bought from me and supported me!!! YOU make this possible! And you make it possible that even bigger and even freakier works can be created! 
I'm looking forward to a new year with lots of new work and ideas and of course to be able to share them with you again!!!
On into a new, healthy, epic and rocking year!!!!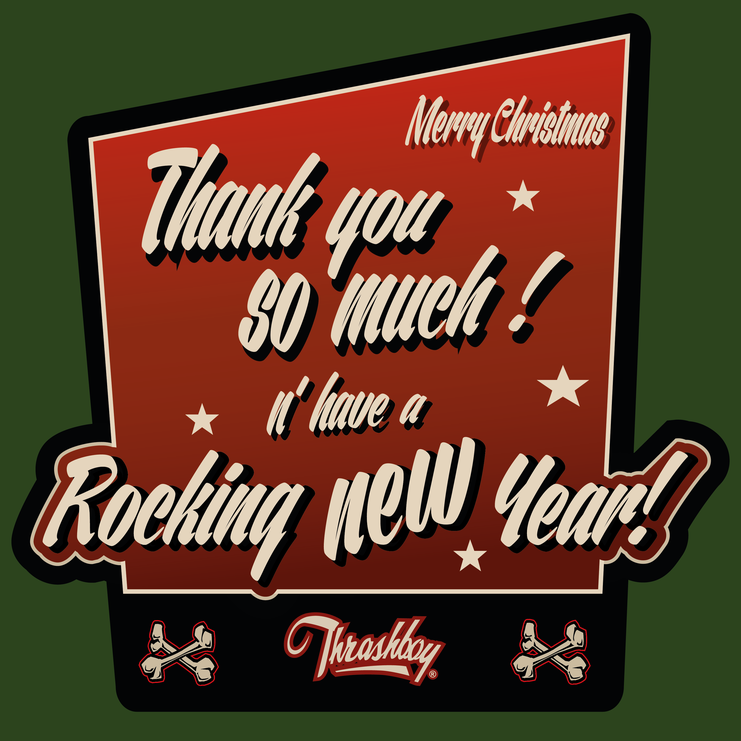 ---
 10.09.22
Tom's Rod Shop
On September 17 Tom opens the doors! Openhouse at Tom's Rod Shop! Come on by! With live band - The Rockets will rock the stage! 
And we'll be there with Original Kustom Art, Thrashboy Clothing and lots of good vibes!
We are looking forward, it's going to be a party!!!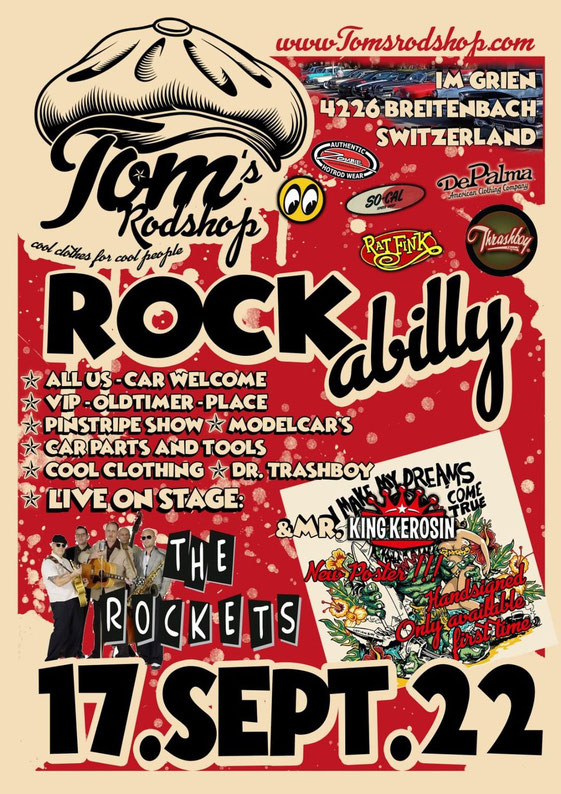 ---
 20.8.22
50 Jahre Broncos MC 
September 3 is the day, an anniversary to celebrate and we are there! Come by our booth! Handmade Kustom Art and our Thrashboy® Merchandise, everything is there! 
We are looking forward to this celebration!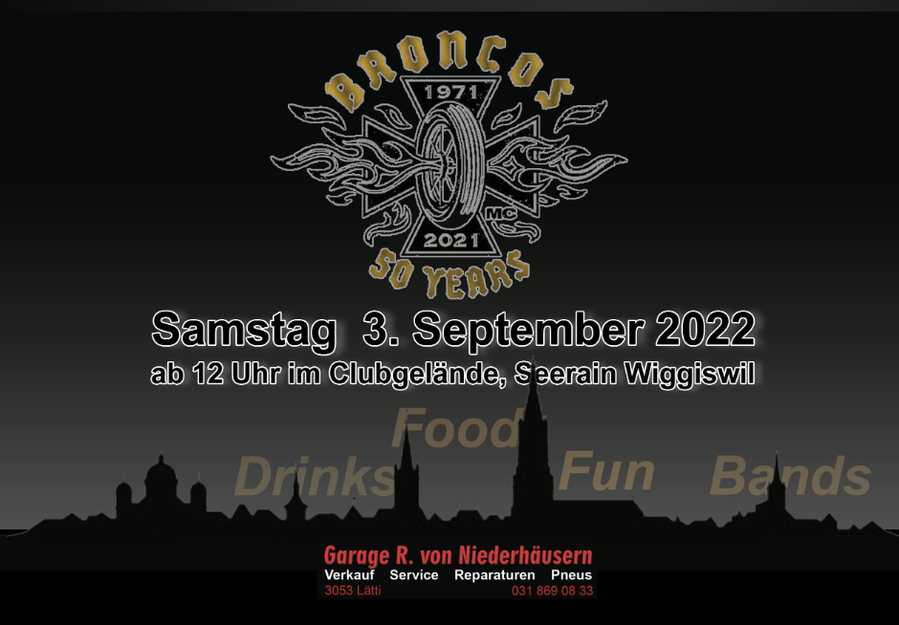 ---
 02.8.22
The Legend!
CUSTOM PARTS AND WEAR OPEN HOUSE 22! 
On August 27 and 28, the doors are open for you! The Open House at Custom Parts and Wear 22 is ready!!!
The most awesome pre 1965 cars and bikes, really good people, cold beer and tasty food from the grill, international low brow artists!!!! It doesn't get any more awesome than this! And we are there! 
Come by too, we are looking forward to it!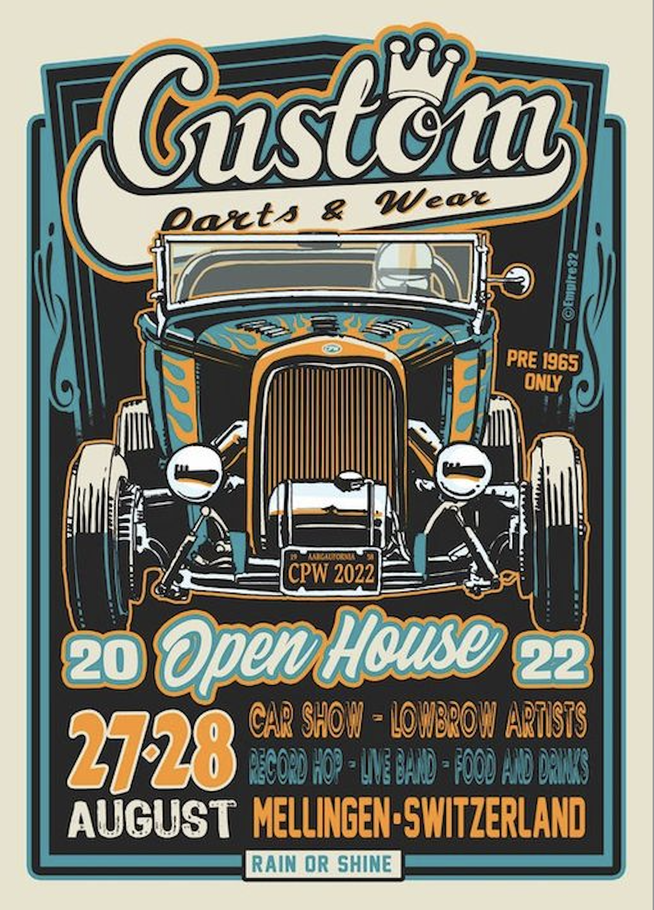 ---
 02.8.22
Motorfestival Gasoline & Friends! 
On 13 and 14 August it is again so far, the motor festival of the GASOLINE & FRIENDS rises in the next round! 
This time even with band contest and the coolest cups in the world!!! :) 
A gigantic party with WALL OF DEATH show, many really cool exhibitors to store, cool drinks, food and bobbyCar racing to get even the little ones on board!
We are there!
Come by that will be super cool again!
---
 02.8.22
Exhibition @ MANIACS MC SWITZERLAND AARGAU! 
The MANIACS MC Aargau invites you to the summer party 22! And we are in the middle of it! 
From 14:00 it starts with cool drinks, cool stands to store good people and many machines! 
See you there!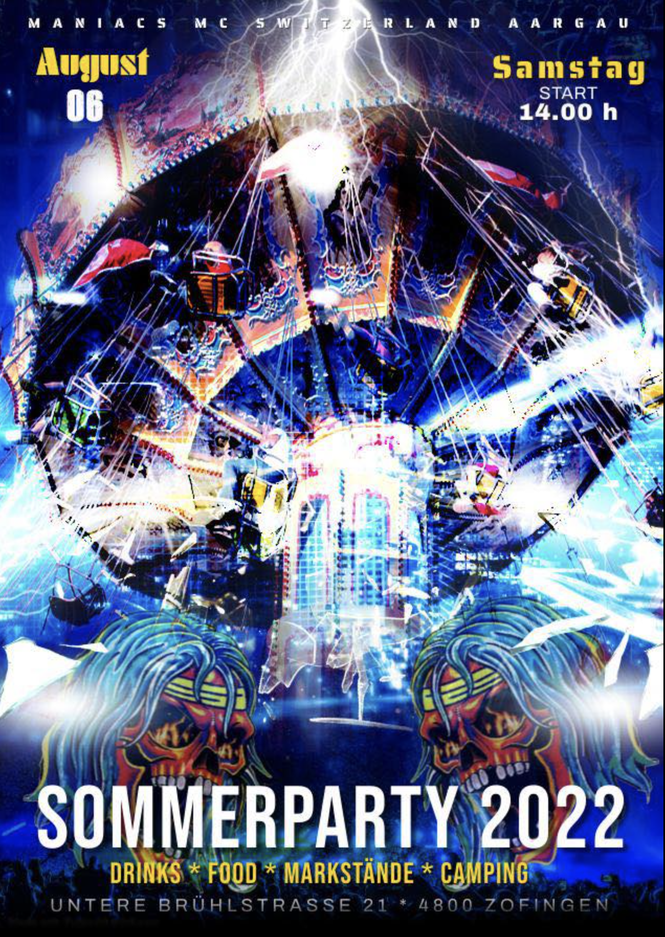 ---
 03.5.22
Open Atelier!
Thrashboy® studio opens the doors again!!! 
On the 28th and 29th of May we will have our spring exhibition. All interested are welcome to join us.
Many new works, gift ideas, Thrashboy clothes and pictures are ready for you. Come and see us !
As a special with us are the Heavy Flying Cooks and provide for your physical well-being with the best and fresh food from the grill!
ENJOY!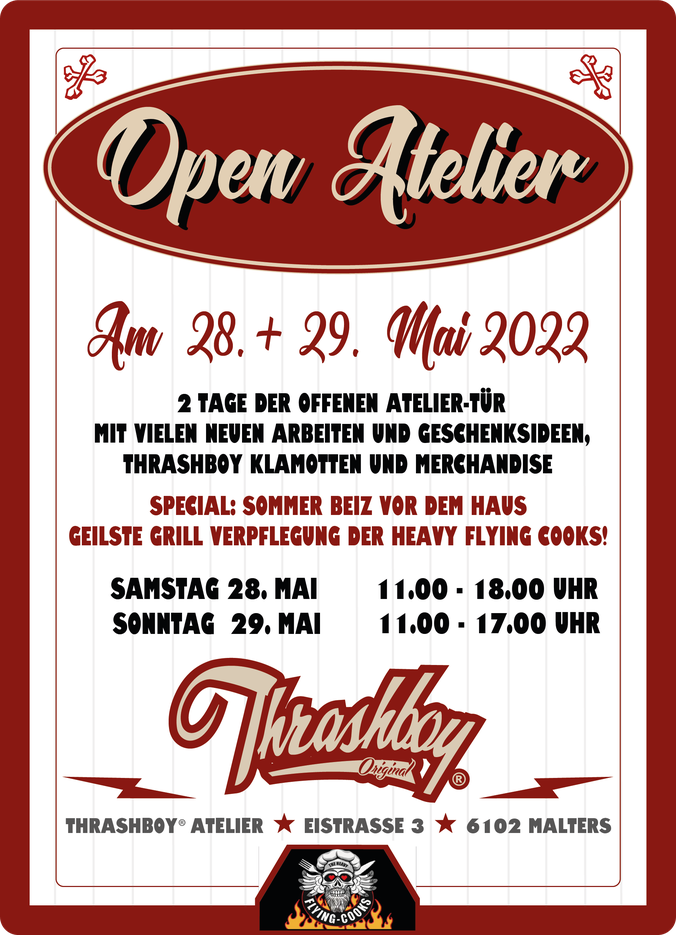 ---
 08.4.22
New Design
The Thrashboy® homepage shines in a new design!  Not only the design is new. It is also new that the whole page is bilingual in German and English!
It is planned that also the store will be rebuilt. It should become more customer-friendly and more international. We are curious! :)
Now then for the first time Happy Easter and have fun painting the eggs!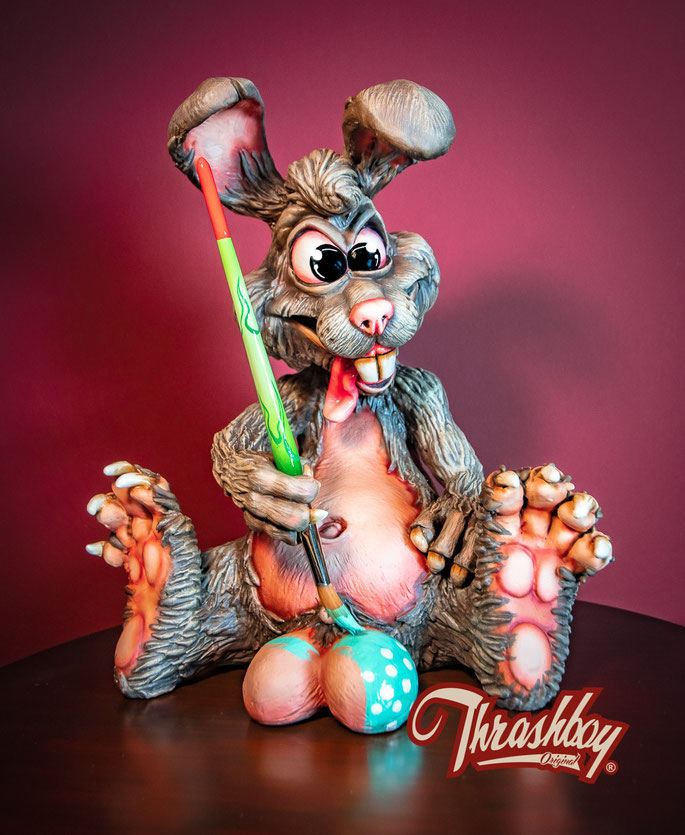 ---
 04.4.22
Next Stop
Finally it's off again and out into the world!!!
Next stop is the 50s Rocket in Zofingen (Switzerland). An awesome, big and cool show with many artists, exhibitors, live music and many good people and their awesome cars and bikes! And I can be in the middle of it! Come by the Thrashboy® booth!!!
I am looking forward to it!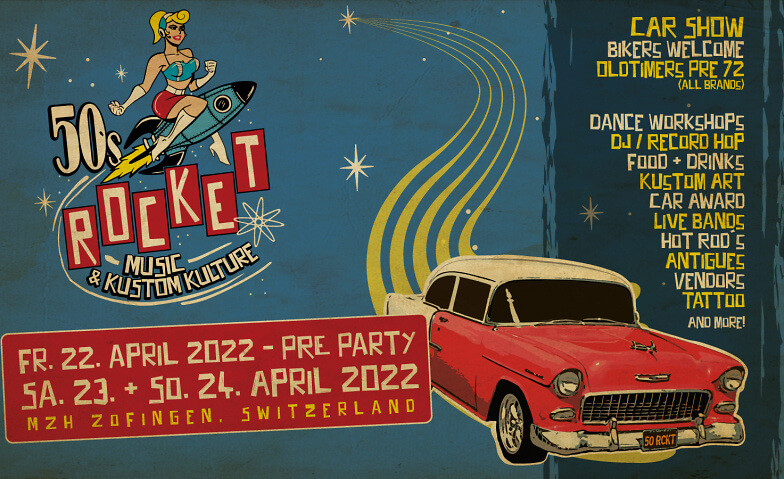 ---
 22.2.22
Mein neues Werk auf dem Titel-Cover!!
In 2019, I was allowed to participate in an artist competition for the exhibition in Japan. All participating artists should paint / design a Vans Shoe. For this purpose, I have created the "Zombie Vans". I have now decided at the end of last year to design more of the shoes. To do this, first of all, the Sk8 Hi oldschool shoes from Vans. 
And, WHooohooo, the first of the new Shoe-Art works made it directly to the cover of the Kustom Magazine from England!!! A report about my work on the shoe and a second one about my art and myself can be found in the anniversary issue N°90 from Feb/March 2022.
I am of course extremely honored!!! And of course am proud of this cover photo!
Cheers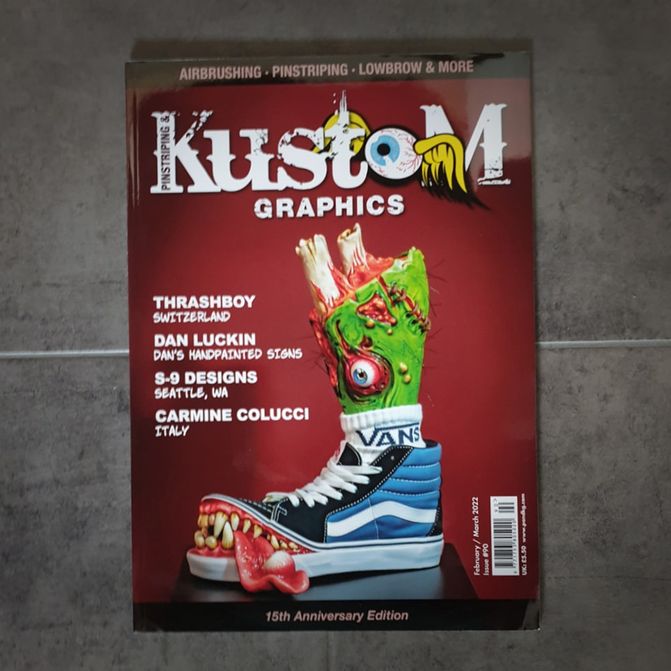 ---
The THRASHBOY® - NEWSLETTER is here!!!
To reach you better and faster I have activated the newsletter again! 
There you get the news as the first freshly presented and miss no event or important information more.
In times where the whole Internet is almost cluttered and the SocialMedia sites are controlled with strange algorithms it is important, faster and better if the communication is more direct. So I decided to reactivate my newsletter. 
You are very welcome to subscribe. 
I promise to send you only important and exciting news. We are not a fan of any advertising stuff and even more mail garbage. So we keep it compact, simple and clear. 
Of course you can unsubscribe at any time!
I am looking forward to you!
---
 I would like to express my sincere thanks to all of you:
- Who have supported me in this turbulent year. To all who have rated my work with a like, commented or even shared it.
- Have supported me as friends,
- Visited me in my studio
- And above all, a huge THANK YOU to those who have bought from me!!! Or have entrusted me with an order!!!
YOU make it all possible!!! You make it possible that I can pay my bills and continue to do what I love!!! I can continue to take the time to create new art and creative works!
As before, I will invest every minute I spend with my work to learn and get better, so every minute flows into the works you can buy from me. So you are not just buying a product, you are buying the time that has been invested! And time is the most valuable thing there is.
-- THANK YOU - You are the coolest! --
I still have a lot of ideas to make this world more colorful and rocking and I'm looking forward to the next year with you!
Keep on the rockin'n'crazy life!!!
Cheers and a splendid start into the new year I wish you all!!!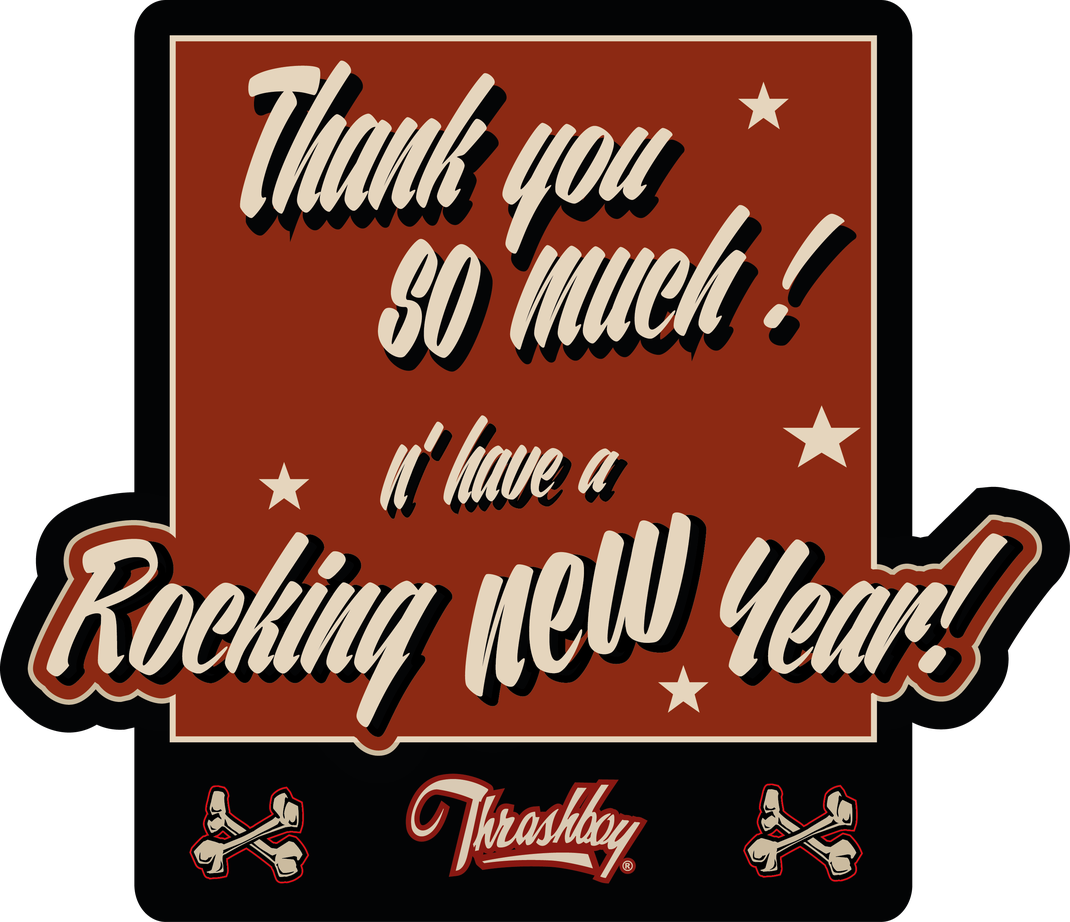 ---
IT'S THAT TIME AGAIN!!

Open House at Thrashboy Atelier! 
On 24 and 25 July, the doors will be opened and you get an exclusive look behind the scenes! 
Many new works and gift ideas are waiting for you in the exhibition. Also the latest clothes, caps, t-shirts, hoodies, stickers etc. are waiting for you. 
For the physical well-being is also provided. My neighbor just one door away also opens the gates for this occasion and entertains you with food and cool drinks
All those who arrive with old iron, may drive up! Parking is also available for everyone else. 
Come by! Looking forward to seeing you!!!
Keep on the rockin'n'crazy life!!!
Cheers and a splendid start into the new year I wish you all!!!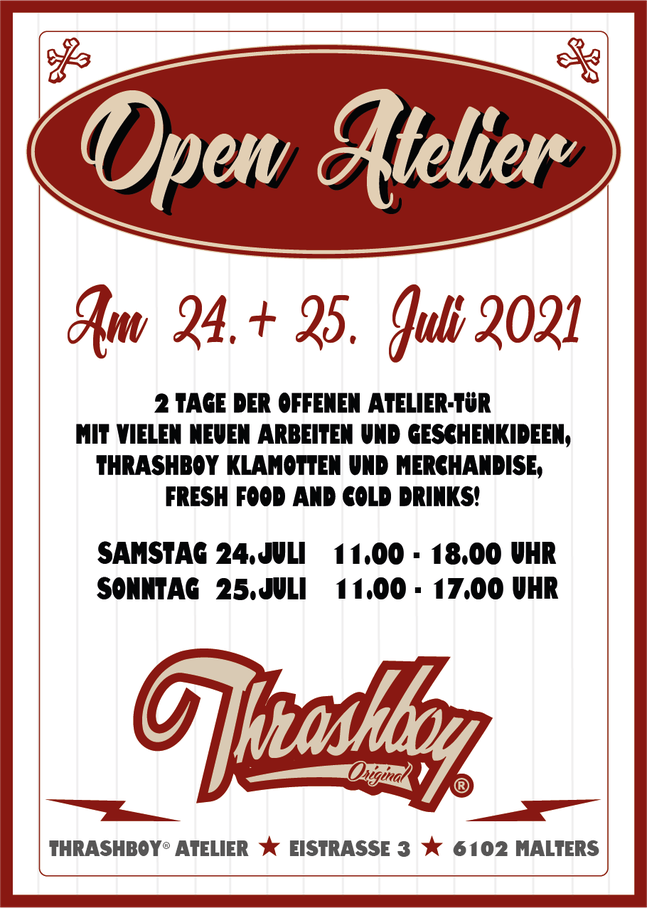 ---
Hey! Es war ein nicht ganz einfaches Jahr. 
Ich möchte mich ganz herzlich bedanken!! Bei allen die mich unterstütz und bei mir eingekauft haben und mich mit coolen Aufträgen beglückt haben!! 
Genau IHR macht es möglich, dass diese Welt farbig, verrückt und somit gesund bleibt!! 
Ihr ermöglicht das alles, VIELEN VIELEN DANK!!
Ich wünsche dir und deinen liebsten eine saugemütliche und entspannte Weihnachtszeit und einen prächtigen Start ins neue Jahr!! 
.. and don't forget to rock'n'roll!!
Cheers Chris
---
02.01.2020
!! 2020 !!

Whoooooh!! Wieder ein Jahr um! Und sogar das erste halbe Jahr als selbstständig Erwerbender Künstler überlebt!! :) :) 


Yeah, Was Für Ein Jahr!! Ich durfte so viele neue Freunde, neue Kunden und neue Künstler kennen lernen. Sooo viele neue Sachen lernen. Wir durften mit unserem Stand an vielen supergeilen Shows mit dabei sein. Und zum Schluss des Jahres sicher als mega Highlight nach Japan fliegen um meine Arbeiten da an der Mooneyes Show, der grössten Kustom-Kulture Show auf dieser Welt, mitten drin präsentieren zu können!!! 
Ein RIESEN Danke an alle die mich im 2019 unterstütz haben, meine Arbeiten gekauft haben und mir geile Aufträge anvertrauten!! IHR, ja genau IHR macht das ganze möglich!! Ihr seit die geilsten!!!!! DANKE!

Nach ein Paar Tagen Erholung über die Weihnachtstage bin ich nun gestärkt, die Batterien sind geladen und mein Kopf voll mit VIIIIILEN neuen Ideen um die Welt etwas freakiger zu machen und mit unkonventionell-verwirrtem-aber-geilem-Zeugs aufzumischen!! :) :)

Stay Tooned for the new and fresh Year!!
---
10.11.2019
Next Stop! - YOKOHAMA, Japan !!!!

Die legendäre MOONEYES HOT ROD CUSTOM SHOW in Yokohama Japan findet dieses Jahr zum 28. mal statt. Am 1. Dezember steigt die Show.  UUUUUuuuund wir haben die Ehre da mit dabei sein zu dürfen!! 
Wir werden mit unserem Stand, auserlesenen Arbeiten und einer speziell für Japan gemachter limited Edition mitten im Geschehen sein!!
Ich freue mich auf alle die bei uns vorbeikommen! Das wir eine riiiesen Erfahrung. Wir freuen uns auf diese grossartige Show.

See Ya in Yokohama!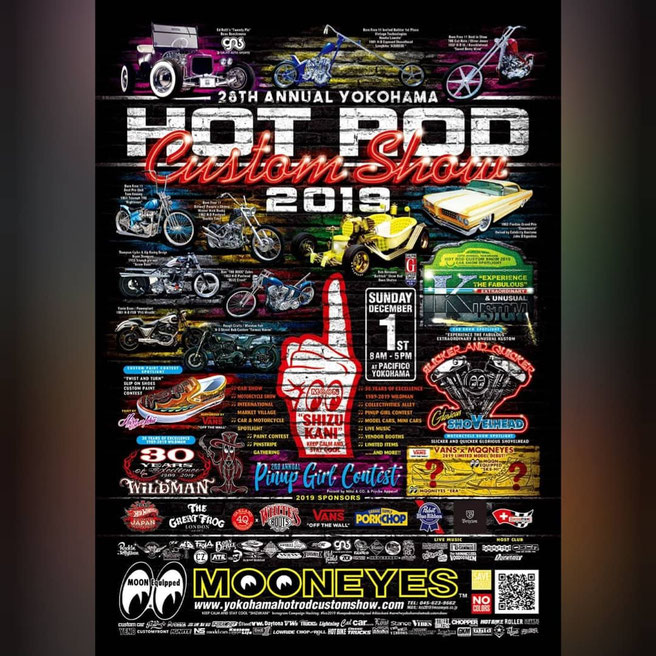 ---
27.08.2019
Next Stop! - 1. SWAPMEET in Murten!!

Das erste traditionelle Swapmeet findet am 31. August n Murten statt. Swapmeet bedeutet: bringt alles mit ihr in euren Garagen findet und ihr nicht unbedingt mehr braucht, dann wird gehandelt, getauscht, gefeilscht und verkauft! Alles für Bikes und Oldtimer. Unter steht der Link!
Auch wir sind dabei mit unserem Stand!
Ich freue mich auf alle die auf ein kühles Bierchen vorbeikommen!!

See you am 31. August in Murten!

-- SWAPMEET , Freiburgerstrasse 45, 3280 Murten
https://www.facebook.com/events/929261457411538/
---
04.08.2019
Next Stop! - Custom Parts and Wear OPENHOUSE!!

Eine Ehre für uns wieder dabei sein zu dürfen!! Ein Künstler Lineup aus den besten Kustom Art Künstlern Weltweit!!!! 
Ebenfalls und in grosser Zahl die geilsten Cars und Bikes bis Jahrgang 69', Musik, kühles Zeugs zum Trinken und richtig gute Leute!
Wir sind dabei mit neuen limitierten Kustom Art Arbeiten, Clothing  und unserem ganzen Stand mit alles! :)
Ich freue mich auf alle die auf ein kühles Bierchen vorbeikommen!! Das wird supergut!

See you am 24. August in Mellingen AG!

-- Custom Parts and Wear, Birrfeldstarsse 35, 5507 Mellingen AG
---
12.06.2019
Next Stop! - Rocking & Rambling Interlaken 

Wir sind mit dabei! Mit neuen Arbeiten, Clothing  und unserem ganzen Stand mit alles! :) 
Kommt doch vorbei auf ein kühles Bierchen, geilen Hot-und Street Rods und am Abend mit Live Bands, das wird ein Fest!!

See you am 13. Juli in Interlaken!

---
22.05.2019

100% Thrashboy® !!
Mehr Zeit für eure Aufträge - JA ✅
Mehr Zeit für meine Arbeiten - JA ✅
Mehr Zeit für Kustom Art - JA ✅
Mehr Zeit für die Fotografie - JA ✅
Mehr Kreativität - JA ✅
Mehr Arbeit - JA ✅
Mehr Risiko - JA ✅
Mehr Freiheit - JA ✅
Es gibt News!!
Nach fast zehn Jahren Arbeit in zwei Berufen, einem als täglicher 100%-Job und einem als Hobbykünstler-Job an allen Wochenenden und Nächten, bin ich nun an einem Scheideweg angekommen.
Ich bin es müde, mich zu entschuldigen, ich habe keine Zeit für dieses Projekt.... 
Ich bin es leid, meine Ideen und Kreativität zu unterbrechen..... Weil wir unseren Träumen folgen sollten und weil wir unseren Herzen folgen sollten und wegen so vieler anderer Dinge, muss ich für mich an dieser Stelle eine Entscheidung treffen.
In den letzten paar Monaten habe ich immer mehr dieses Gefühle von dem, was mir wichtig ist, bekommen. Meine Leidenschaft. Mit meinen Händen zu arbeiten, neue Dinge zu erschaffen, sie direkt aus meinen Händen wachsen zu lassen... das ist meine Leidenschaft.
Also los geht's..... 
JETZT: 100% THRASHBOY!!!!!!!
Ich nehme es so, wie es kommt... ich nehme die Herausforderung mit all dem Risiko und dem ganzen Spaß an..... Weil das Leben jetzt ist.
Jetzt gibt es sooo viele Dinge zu tun.... jetzt ist es an der Zeit, diese Welt mit mehr Seltsamkeit zu überschwemmen, um sie noch bunter und verrückter zu machen!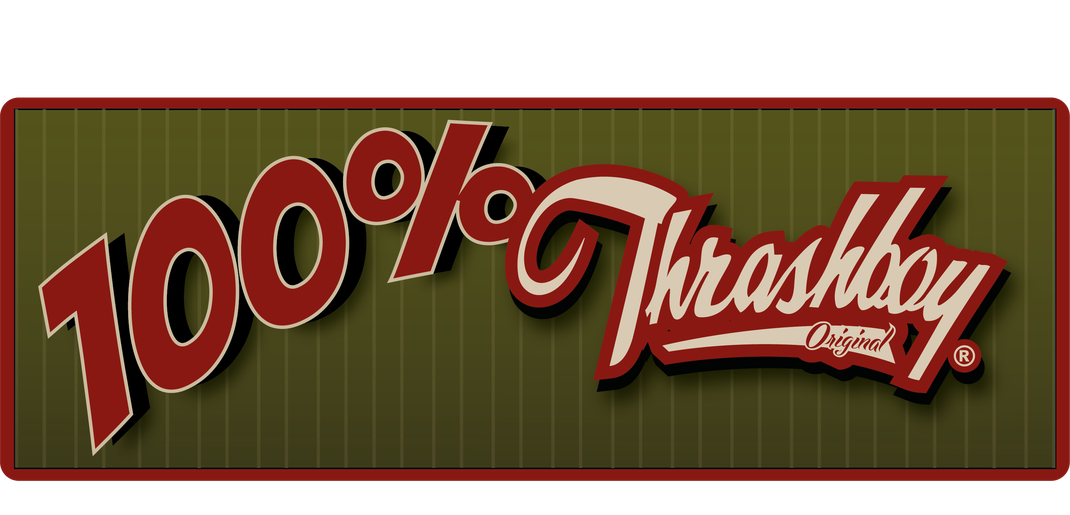 ---
20.01.2019

Yeeeeeah Finland again !!
Und bereits steht die erste Ausstellung im 2019 an!
the Kustom Kulture Show in Helsinki - Und ich darf wieder dabei sein!!
Am 9 & 10 Februar in der alten Kabelfabrik in Helsinki geht die grosse Winter-Indoor-Show über die Bühne. Mit den geilsten Kustom Cars und Bikes, vielen Kustom Künstlern, feinstem Rock'n'Roll auf der Bühne und allem was dazugehöhrt. 
Wunderbar da wieder dabei sein zu dürfen!!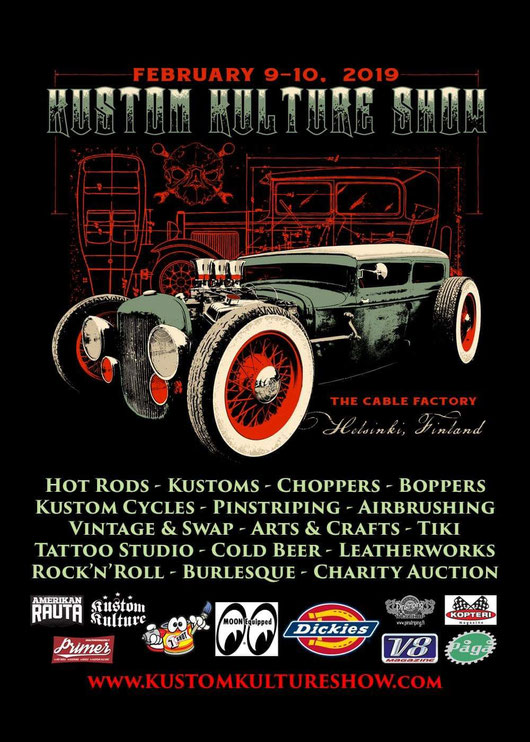 ---
02.01.2019

HoooolyDays !!
I wanna wish all and everyone a great new Year!! 
Was für ein Jahr das 2018 war! Streng, Intensiv... ein stürmisches Jahr :) Aber sehr geil mit soooovielen coolen Abenteuern!!
Ich durfte in vielen Magazinen rund um die Welt meine Arbeiten präsentieren, wieder an sehr geilen Orten ausstellen, das erste mal auch in Finnland, in Helsinki an der grossen Kustom Kulture Show. Ich durfte viele andere Künstler treffen und kennen lernen. Mich mit vielen guten Leuten austauschen, viel neues entdecken und noch viel mehr lernen.
An dieser Stelle ein grosses DANKE an alle die mich auch im 2018 unterstützt und begleitet haben!!! 
Ich freue mich tierisch auf das neue Jahr mit euch!!! ... uuuund mit mehr Zeit für Kunst und Handwerk... da geht noch was.. 
Auf in ein Neues!
HELLYEAHHH!! Cheers!
---
22.06.2018

Next Highlight - Custom Parts and Wear Open House !!
 Auch in diesem Jahr habe ich die Ehre im Line Up dieser grossartigen Show zu stehen. Mit vielen unglaublich guten Künstlern zusammen unsere Werke zu zeigen und natürlich auch verkaufen zu können. Es ist wie jedes Jahr ein Event der Sonderklasse mit all den Oldtimern, Kustom Cars & Bikes, Kustom Artist, Musik, Bar und Freunden!
Am Samstag 11. August, Birrfeldstarsse 35, 5507 Mellingen AG
Ich freue mich möglichst viele von euch da zu sehen!!  - Check out the Thrashboy Booth!
HELLYEAHHH!! Cheers!
---
02.01.2018

Next Stop - HELSINKI !!
Der Flug und das Hotel sind gebucht!  Wir  werden an der 6. Kustom Kulture Show in Helsinki-Finnland dabei sein!! 
Am 10. und 11. Februar 2018 findet die grosse Show statt. Mit vielen der allerbesten Kustom Künstler, Pinstripers, Bike und Car Builders, Fashion und Livestyle Booths alles an einem Ort!! Und wir mittendrin mit unserem Thrashboy® Stand!! Das wird eine Sause!!!
Leider bin ich desswegen für einmal nicht an der Fasnacht Luzern... dafür freue ich mich schon heute auf nächstes Jahr! 
Und jetzt erstmals auf die Finnische Hauptstatt zu rocken!! :)
HELLYEAHHH!! Cheers!
---
24.12.2017

Merry Christmas and a fucking great new Year !!
Und wieder geht ein spannendes Jahr zu Ende.. Geil war es!! :) Auf und ab aber immer in der Spur! :) 
Wieder durfte ich meine Arbeiten in die ganze Welt verschicken und mit der Titelseite eines der grössten Magazine weltweit wurde für mich ein nie erhoffter Traum erfüllt. 
Ich möchte mich auch hier bei alle meinen Freunden, Kunden und allen die mich unterstützt haben herzlich bedanken!!!!! Das war wieder sowas von cool!!

Und jetzt bleibt noch etwas Erholung und dann mit einem Monsterstart in ein neues Jahr mit 365 Chancen unser Leben zu etwas besonderem zu machen!!
HELLYEAHHH!! Cheers!
---
20.11.2017

The New Kustom & Pinstripe Magazine! - Thrashboy feature !!
Am 15. November ist das neue Kustom & Pinstripe Graphics Magazine mit der #65 auf den Markt gekommen. Mit dabei auf der Titelseite mein Garage Fink!! Und ein grosses Feature auf 3 Seiten über meine Arbeiten und mein Gewerke. Bin natürlich saustotz da mit drauf zu sein. 
Das Kustom Mag ist auf der ganzen Welt im Handel und somit eines (wenn nicht DAS) grösste Magazine über Kustom Art überhaupt. 
YEAHHH!! Cheers!
---
18.07.2017

Next Stop! - KUSTOM SHAKEDOWN !!
Am 27. + 28. Oktober 2017 steigt mit dem Kustom Shakedown wieder eine unglaublich geile Show! In Bugdorf BE, Switzerland steigt die Indoor Kustom Party mit den geilsten Kustom Cars und Bikes, Internationalen Kustom Artists und fetten Life Bands am Abend!!
Saugeil dass ich da mitdabei sein darf!! Freue mich mit euch an meinem Stand anzustossen!

Nicht verpassen, komm vorbei, das wird wieder richtig geil!!
---
18.07.2017

Next Showbooth - Custom Part's and Wear Open House!!
Safe the Date!   5. + 6. August 2017 Custom Parts and Wear Open House! Der Kustom-Kultshop  macht die Tore auf und schmeisst wieder eine wahnsinns Party!
Am Samstag ist Art-Day! Mit dabei sind dieses Jahr wieder unzählige internationale Künstler aus Italy, Germany, Switzerland, Finland und Japan!! Es ist mir eine Ehre mit dabei sein zu dürfen!
Unmengen der geilsten Autos und Motorräder pre 65, Livebands, kühles Bier, gute Leute -
Nicht verpassen, komm vorbei!!
---
23.12.2016

Happy and safe holidays and a great start in the 2017!!

Vielen Dank für den grossartigen Support im 2016!!
Wir wünschen eine saugemütliche Weihnachtszeit und einen Monstermässig guten Start in ein weiteres, neues und spannendes Jahr!!
---
27.07.2016

15. Anniversary Open House Party @ Custom Parts & Wear!!

20. / 21. August in Mellingen
Mit Stolz darf ich als kleiner Bestandteil der grossen Custom Parts & Wear OPEN HOUSE Jubiläums-Party dabei sein!! Das wird eine riesen Sause!! Mit vielen nationalen und internationalen Kustom Art Künstlern der Extraklasse!! Mit unzähligen Bikes und Cars wie man sie selten an einem Ort sieht!! Mit Musik, grossartigen Leuten, kühlem Bier und top Food!! WAS will man mehr??
Kommt vorbei!! Ich freu mich mit euch anzustossen und ein supergeiles Weekend zu erleben!!
See you there!!
Check it out: https://www.facebook.com/Custom-PartsWear-147498135111/
---
20.04.2016

1. Anniversary Party @ ACE CAFE Luzern!

Mit Freude darf ich verkünden dass ich mit einem Stand an der Geburtstags Party vom ACE CAFE Luzern vertreten sein darf!! Die Sause mit unendlich vielen coolen Fahrzeugen und den dazugehörigen coolen Leuten, Bands mit guter Musik und dem legendären ACE CAFE Ausschank an feinsten Getränken und noch feinerem Essen findet am Weekend vom 18.Juni und 19.Juni 2016 statt. 
Ich würd mich saumässig freuen euch an meinem Stand zu treffen und natürlich mit einem kühlen Bier an zu stossen!!
See you at the ACE CAFE LUZERN!
---